Our cheese curds are made fresh every Thursday. They are made with milk from the same morning, and are on the shelves in grocery stores by the next morning! We only deliver enough product to last for one week, and then fresh ones are brought in again! For the squeakiest curds, give Crystal Springs a Try!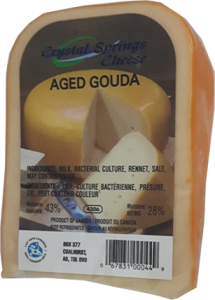 Aged Gouda (26 weeks +)
As it matures, Gouda becomes darker in color, firmer in texture and much tangier, with a fuller, richer flavor and a more pronounced, spicy aroma.