At Crystal Springs Cheese, Feta cheese is our specialty. The milk we use comes fresh every day from our dairy next door. With a creamy and tangy taste and smooth texture, this feta is perfect for crumbling on your Greek salad or on an Italian Pizza. Our goal is to produce fresh, consistent Feta with just the right amount of salt and with the tangy taste you would expect from a Greek style Feta. The process we have developed over the years is unique and we promise you that you will be able to tell the difference!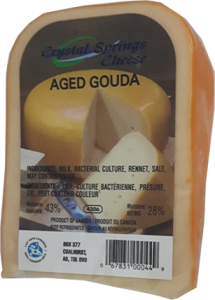 Aged Gouda (26 weeks +)
As it matures, Gouda becomes darker in color, firmer in texture and much tangier, with a fuller, richer flavor and a more pronounced, spicy aroma.